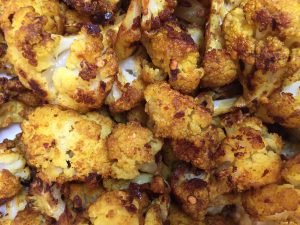 One of my favorite vegetable side dish recipes – I could eat half a head of cauliflower at a sitting this is so yummy.
Serves 4-6 as a side dish. 15 minutes prep; 40 minutes cooking time.

​1/4 cup extra virgin olive oil
1 tbsp. ground cumin
2 tsp. turmeric
1-2 tsp. crushed red pepper (depending on your tolerance for spiciness)
1/2 tsp. salt
1 head cauliflower, cut into 1-inch florets (reserve the core for the next recipe)
1. Preheat oven to 400 degrees F. In a large bowl, combine oil, cumin, turmeric, crushed red pepper and salt. Mix then add the cauliflower pieces and toss to coat.
2. Spread cauliflower evenly on a cookie sheet so that all of it touches the pan.
3. Put on the bottom shelf of the oven and cook for 20 minutes.
4. Take out and turn each piece over.
5. Put back on bottom shelf of oven for 15-20 more minutes until each piece looks cooked through and nicely browned.
Caulifower Almond Patties
Makes 3-4 patties. 23 minutes.
Last night while I was going to sleep, I thought up these patties as a way to incorporate more vegetables and nutrition in my bread. They're gluten-free, quick and simple to make and have a chewy and toothsome feel that's very satisfying. They can serve as a base to an open-face sandwich, the way I did above with sauteed arugula and zucchini slices with pesto, or even as a pizza base.
1/2 cup almond meal
1/4 cup arrowroot starch
One cauliflower core, shredded
1/8 tsp. salt
1 tbsp. extra virgin olive oil
3 tbsp. water (add one by one until you get a good consistency)
1. Combine all ingredients except water, then add water tablespoon by tablespoon to get a good consistency, adding more if necessary. It should hold together without being runny.
2. Heat a nonstick pan on medium and add about 1/2 tbsp. avocado or other high-temperature tolerant oil. Put a scoop of batter in the pan and push and spread it into a patty shape (the size of a kaiser roll). Cook for 2-3 minutes per side until golden brown. Add more oil for each one as necessary. ​​