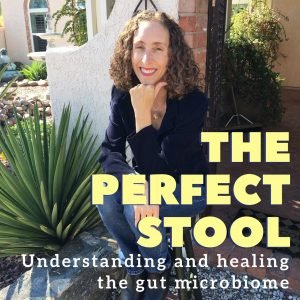 If you're interested in having a healthy gut, listen to my podcast: The Perfect Stool: Understanding and Healing the Gut Microbiome.
Find it on your favorite podcast app, play the most recent episode on the player below, or play it online here.
If you're a regular listener and would like to support the podcast, you can make a one-time donation on PayPal or support it monthly on Patreon.
On the podcast, I interview functional and integrative medicine practitioners, patients and scientists about the gut microbiome and gut health, the current state of research and how you can apply it to your life.
Learn more about conditions like Irritable Bowel Syndrome (IBS), Irritable Bowel Disease (IBD) (colitis and Crohn's Disease), gastritis, gastroesophageal reflux disease (GERD), candida and fungal gut infections, parasites, Small Intestine Bacterial Overgrowth (SIBO) or dysbiosis and how to test for and treat them naturally, as well as symptoms like diarrhea, constipation, reflux, bloating, cramping and nausea from a functional medicine and evidence-based perspective. And if you've never heard of FMT or Fecal Microbiota Transplantation, boy are you in for a surprise when you hear what people are doing to heal themselves! You'll also learn about the gut microbiome's influence not just on digestive health, but on cardiovascular health, mental health (including anxiety, depression, ADHD and autism), autoimmune diseases, cancer, women's health issues, skin conditions and overweight/obesity.

Listen to my latest episode below or listen to all of them online here.
BiomeFX Test to accompany episode 55 of The Perfect Stool
Lindsey's BIOHM Gut Report (to accompany episode 13)
Lindsey's Dad's OAT Test (to accompany episode 14)