In honor of Halloween, which is tomorrow, I wanted to share with you my favorite finds for healthier chocolate choices. As far as candy goes, dark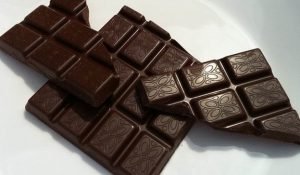 chocolate is probably your most healthy option. And while I'm a firm advocate for eliminating as much added sugar as possible, I find that sometimes I just want that square or two of dark chocolate after dinner to finish off my meal and tell my body that it's done eating, which is much better than a big dessert!
And there are some health benefits to chocolate, including it being a powerful source of antioxidants; raising good HDL cholesterol; and possibly reducing heart disease risk, improving blood flow and lowering blood pressure. And dark chocolate is a great source of fiber! But let's not kid ourselves, at the end of the day, it's still candy and has added sugars, so the key is moderation, and if you can't limit yourself to two or three squares, best to abstain completely.
And if you suffer from autoimmune disorders like I do and have to avoid dairy or soy like me (or are lactose-intolerant or vegan), you'll find that most brands of chocolate contain soy lecithin and many contain milk, especially for lower percentage cacao bars (I usually shoot for at least 70% cacao, although the dark chocolate mint one below is 67%). So two of my current favorites that have no soy or dairy (or gluten) are the Theo's Sea Salt 70% Dark Chocolate Salted Almond and the Equal Exchange Dark Chocolate Mint bars. Both are organic, fair trade, rich and delicious.


If you're doing the auto-immune protocol (AIP) and are avoiding chocolate altogether, you could try this carob-based bar.
In terms of sugar-free chocolate, I tried one bar made with xylitol, but it just didn't have the rich quality that makes chocolate so irresistible. There is one brand of chocolate that is made with steevia and no sugar, Lily's, but I'm not a huge fan of steevia due to the aftertaste and they have soy. But for those of you who like steevia and have no issue with soy, these bars or chocolate chips are a great choices.
And my favorite gluten-, soy- and dairy-free chocolate chips are the Enjoy Life dark chocolate chips:
So on Halloween if you go ahead and indulge, indulge responsibly on high quality, delicious chocolate. Don't waste your stomach space or the calories on low quality, oversweetened, cheap candy!
The links on this page are affiliate links to Amazon for which I receive a very small commission. I appreciate your support in using them!