Hormone, Thyroid and/or Weight Issues? 
If you live in the Tucson area and are looking to solve weight, thyroid and/or hormone-related issues, you've come to the right place! Lindsey Parsons and Lydie Vagnerova have paired up to offer hormone yoga and health coaching packages for women experiencing these issues.
What is Hormone Yoga?
Hormone Yoga is a practice developed by Brazilian yogi Dinah Rodrigues. In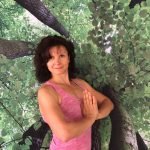 recent years, it has developed a large following in both Europe and Brazil, but so far it has only a handful of certified teachers here in the U.S.
This method can help balance hormones and therefore decrease the undesirable side effects of menopause, PMS, PCOS, infertility, hypothyroidism and help with insomnia, stress, anxiety and depression.
Hormone Yoga and 12-Week Health Coaching Package
One 1-hour health coaching session per week over 12 weeks with Lindsey in the Bear Canyon area (Snyder and Bear Canyon) or over the phone, Skype, FaceTime, Google Hangouts, etc.

Lindsey Parsons, Certified Health Coach

8 hours of private hormone yoga sessions with Lydie in Oro Valley. Sessions may be scheduled over 1-2 days or over the course of 4 weeks at client's convenience.
Kick the sugar habit, reduce stress and establish healthy eating habits for life so that weight loss is sustained
Balance hormones
Improve gut health, autoimmune and thyroid issues
Decrease the undesirable side effects of menopause, PMS, PCOS, infertility, and hypothyroidism
Help with insomnia, stress, anxiety and depression
Contact Lindsey for more information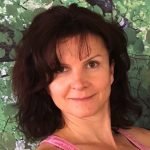 About Lydie
Lydie was born in the Czech Republic but has lived in Tucson, Arizona since 1998. She is a licensed Physical Therapist Assistant and works at a Rehabilitation Hospital.
She has always been involved in various sports: marathon running, weight lifting, yoga, biking, hiking, skiing, and horseback riding.
Lydie has struggled with thyroid dysfunction since her early 20's and had difficulty controlling her symptoms with traditional medicine. She searched for ways to help herself, which eventually led her to Hormone Yoga therapy developed by Dinah Rodrigues from Brazil. She started practicing daily and was amazed with her positive results. After 10 months of daily practice, she was able to go completely off Synthroid. Therefore, she decided to share this wonderful method with others.
Lydie obtained her Registered Yoga Teacher (RYT 200) certification in 2017. After self studying for a year, she then traveled to Europe for more training and certification with Dinah Rodrigues (outside of Yoga Alliance certification).
Lydie is now certified in Hormone Yoga for Women and Hormone Yoga for Diabetes. She is among the first few teachers in the U.S. who are able to teach this technique.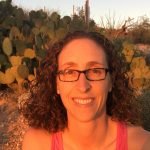 About Lindsey
Lindsey has been interested in good nutrition and health since high school when she wrote a letter to the editor of her high school paper about the poor quality of the school food. After a career in international education, she started working professionally around nutrition when she co-founded a nonprofit to advocate for healthier food in the Montgomery County Public Schools in Maryland. During her 5 years directing Real Food for Kids – Montgomery, she battled her own health issues through nutrition and supplements, improving autoimmune and gut issues naturally, which prompted her to seek certification as a Health Coach.
Lindsey helps her clients lose weight in a healthy and sustainable way, making diet and lifestyle changes that can be maintained over the long term so that weight that is lost stays off. She also helps clients address gut health, autoimmune, thyroid and other issues so that some clients are able to reduce medication dosages. Lindsey's clients typically lose 11-20 pounds during the 12-week program, but more importantly, they keep losing weight afterwards on their own with lifestyle changes they are happy to maintain in the long term. In addition to diet changes, during the program, Lindsey also coaches clients  around stress, body image, eating habits, emotional eating, sabotage and life goals and satisfaction.
You can hear Lindsey on her podcast, The Perfect Stool: Understanding and Healing the Gut Microbiome. 
Lindsey also enjoys vegetable gardening, gluten- and sugar-free baking and traveling.