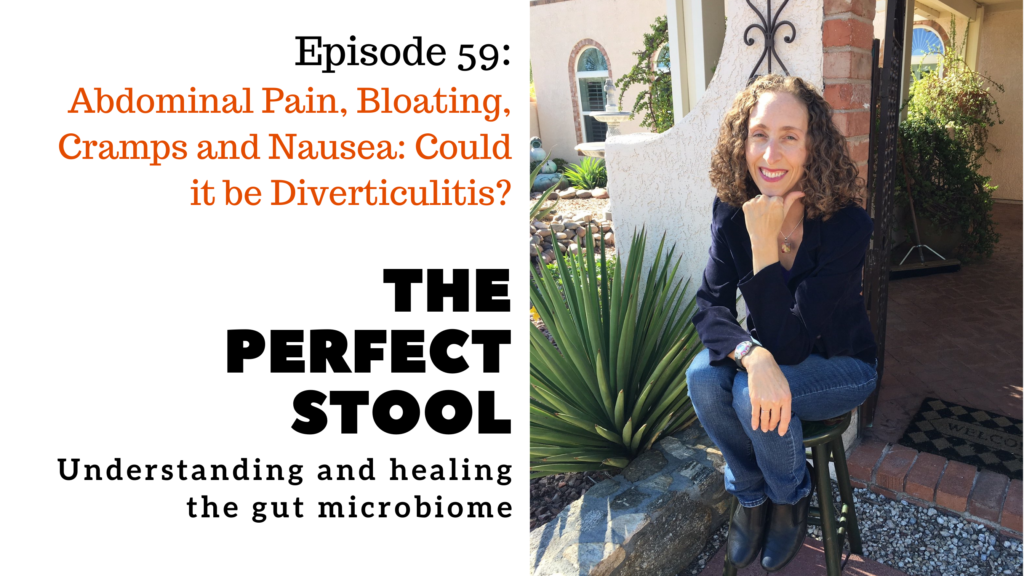 Abdominal Pain, Bloating, Cramps and Nausea: Could it be Diverticulitis?
Set up a free, 30-minute Gut Healing Breakthrough Session with Lindsey to discuss your gut health issues and hear about my 5-appointment gut health coaching program. Set up an individual, 1-hour consultation here.
Diverticular disease is a surprisingly misunderstood, yet very common condition, especially for those over the age of 50. Hear Lindsey Parsons, your host, break down the symptoms, possible causes and treatment options for diverticulosis and diverticulitis. Also, hear from Lily Lopez, founder of Gut Garden, this episode's sponsor, about her gut health journey and how it led her to create a line of supplements that may benefit you in your journey.
Lindsey Parsons, your host, helps clients solve gut issues and reverse autoimmune disease naturally. She's a Certified Health Coach at High Desert Health in Tucson, Arizona. She coaches clients locally and nationwide. You can also follow Lindsey on Facebook, Twitter, Instagram or Pinterest or reach her via email at lindsey@highdeserthealthcoaching.com to set up a free 30-minute Gut Healing Breakthrough Session.
Links Mentioned in the Show
Gut Garden's GoodGut Program: Activated Charcoal, Digestive Enzymes, Collagen Peptides, Perfect Probiotic and Resistant Starch Prebiotic Fiber Blend – enter code "perfectstool" at checkout for 15% off*
Diverticulitis – An Update from the Age Old Paradigm
Cecal diverticulitis mimicking acute Appendicitis: a report of 4 cases
Irritable bowel syndrome and colonic diverticular disease: overlapping symptoms and overlapping therapeutic approaches
Randomized clinical trial of antibiotics in acute uncomplicated diverticulitis
Increased Risk for Irritable Bowel Syndrome After Acute Diverticulitis
A High-Fiber Diet Does Not Protect Against Asymptomatic Diverticulosis
Constipation and a Low-Fiber Diet Are Not Associated With Diverticulosis
Nut, corn, and popcorn consumption and the incidence of diverticular disease
Tributyrin-X* dosing mentioned in episode 58 of my podcast or the blog/transcript version
Lindsey's Links
Lindsey's Fullscript Dispensary*
Lindsey's Wellevate Dispensary*
Lindsey's Gut Healing Facebook Group
Gut Health Tests and Recommended Supplements
Gut Health Coaching with Lindsey
Autoimmune Disease Reversal Coaching with Lindsey
Health Coaching with Lindsey (for weight loss, etc.)
Lindsey Parsons' web site: High Desert Health and lindsey@highdeserthealthcoaching.com
High Desert Health on Facebook
High Desert Health on Instagram or @high.desert.health
High Desert Health on Twitter or @HDesertHealth
High Desert Health on Pinterest
Make a one-time donation on PayPal to support the podcast or sign up as a monthly patron on Patreon.
Credits:
Thank you to SoundDot for the music on the podcast: Royalty Free Music.
*Product and dispensary links are affiliate links for which I'll receive a commission. Thanks for your support of the podcast by using these links.