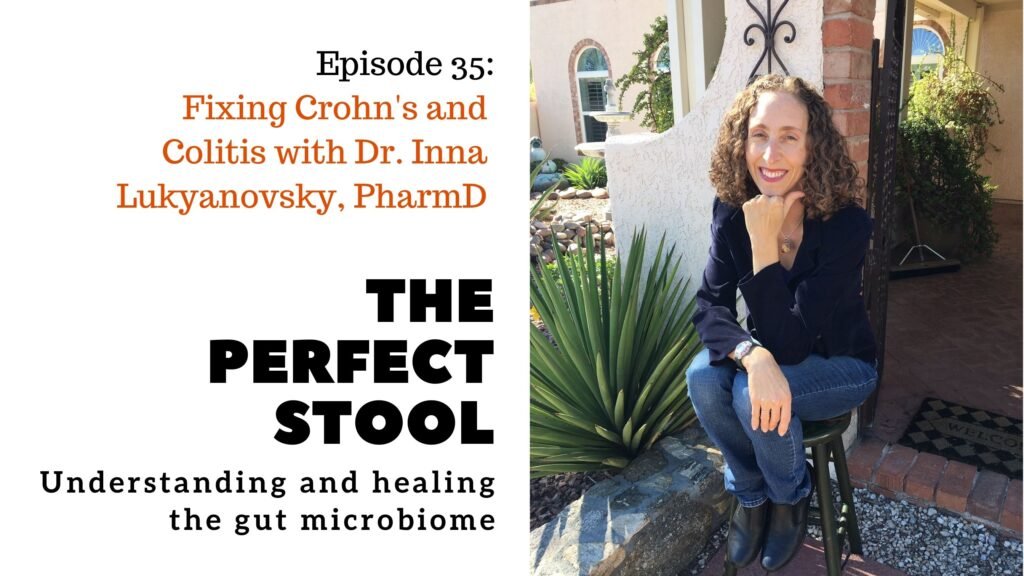 Fixing Crohn's and Colitis with Dr. Inna Lukyanovsky, PharmD
Set up a free 30-minute Gut Healing Breakthrough Session with Lindsey to discuss your gut health issues and hear about my 5-appointment gut health coaching program. Set up an individual, 1-hour consultation here.
Learn how Dr. Lukyanovsky approaches finding the root cause of Crohn's and colitis through testing; healing diets; supplements, including probiotics, fiber and gut healing nutrients; her approach to the 5R's (remove, replace, repair, reinoculate, and rebalance) and whether her clients can get off of their pharmaceuticals.
Lindsey Parsons, your host, helps clients solve gut issues, reverse autoimmune disease and type 2 diabetes naturally and lose weight without cutting calories or cutting out major food groups. She's a Certified Health Coach at High Desert Health in Tucson, Arizona. She coaches clients locally and nationwide. You can also follow Lindsey on Facebook, Twitter, Instagram or Pinterest or reach her via email at lindsey@highdeserthealthcoaching.com to set up a free 1-hour Gut Healing Breakthrough Session.
Set up a consultation with Lindsey
Thanks to my sponsor Hum Nutrition. Get 15% off your first order of $29+ with code "STOOL".
If you're a regular listener and would like to support the podcast, you can make a one-time donation on PayPal or support it monthly on Patreon.
Dr. Lukyanovsky's web site and email: inna@realhealthsolutionsllc.com
Gut Health Coaching with Lindsey
Autoimmune Disease Reversal Coaching with Lindsey
Lindsey's Fullscript Dispensary
Lindsey's Wellevate Dispensary
Health Coaching Breakthrough Session with Lindsey
Functional Health and Nutrition Review with Lindsey
Lindsey's Gut Healing Facebook Group
Lindsey's Healthy and Sustainable Weight Loss Tucson Facebook Group
Tucson Reversing Autoimmune Disease Together Meetup and Facebook Group
Gut Health Testing and Recommended Gut Health Supplements
Lindsey Parsons' web site: High Desert Health and lindsey@highdeserthealthcoaching.com
High Desert Health on Facebook
High Desert Health on Instagram or @high.desert.health
High Desert Health on Twitter or @HDesertHealth
High Desert Health on Pinterest
Donate to support The Perfect Stool on Patreon
Credits:
Thank you to SoundDot for the music on the podcast: Royalty Free Music.