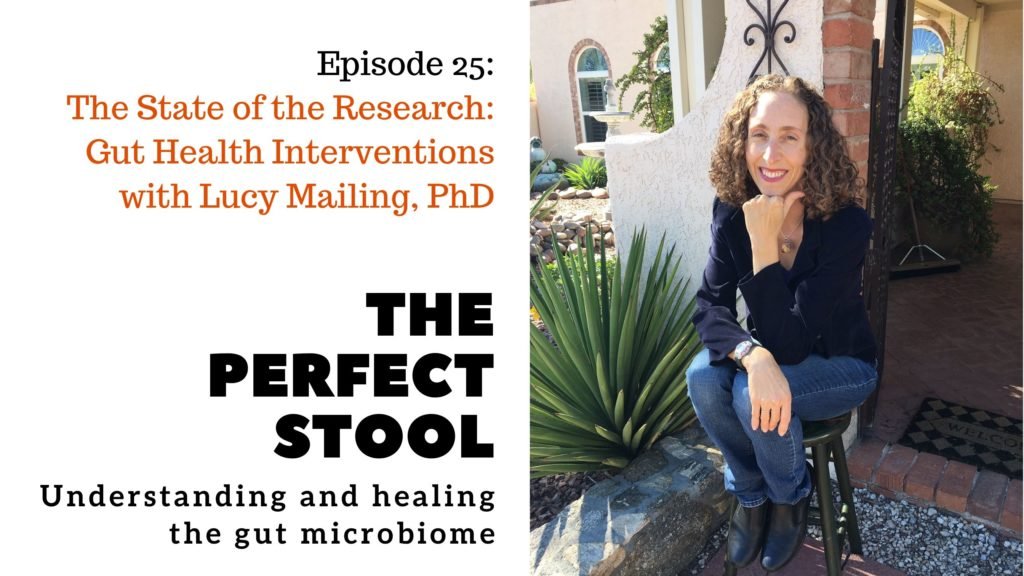 The State of the Research: Gut Health Interventions with Lucy Mailing, PhD
Set up a free 30-minute Gut Healing Breakthrough Session with Lindsey to discuss your gut health issues and hear about my 5-appointment gut health coaching program. Set up an individual, 1-hour consultation here.
Lucy Mailing, PhD is an up and comer in the gut health world, giving keynotes at many prestigious conferences and writing blog articles summarizing the current research on gut microbiome. We delve into what the research says about how a variety of interventions impact the gut microbiome, including exercise (particularly with ulcerative colitis), different diets, red meat, fiber, probiotics, prebiotics, butyrate and glutamine. We also discuss the gut health tests she recommends and the oxygen-gut dysbiosis connection whose hallmark is an overgrowth of proteobacteria.
Lindsey Parsons, EdD, your host, helps clients solve gut issues, reverse autoimmune disease and type 2 diabetes naturally and lose weight without cutting calories or cutting out major food groups. She's a Certified Health Coach at High Desert Health in Tucson, Arizona. She coaches clients locally and nationwide. You can also follow Lindsey on Facebook, Twitter, Instagram or Pinterest or reach her via email at lindsey@highdeserthealthcoaching.com to set up a free 1-hour Healthy and Sustainable Weight Loss/Health Restoration Breakthrough Session.
Lucy's web site: https://www.lucymailing.com (formerly called NextGen Medicine)
Lucy's blog on the Oxygen-gut dysbiosis connection: https://www.lucymailing.com/the-oxygen-gut-dysbiosis-connection/
Onegevity Stool Testing: https://www.onegevity.com/products/gutbio?affid=E0315ED31115F1EBC5E7
Lindsey's Fullscript Dispensary: https://us.fullscript.com/welcome/highdeserthealth
Gut Health Coaching Program with Lindsey:
http://highdeserthealthcoaching.com/gut-health-coaching/
Gut Health Coaching Program with Lindsey:
http://highdeserthealthcoaching.com/gut-health-coaching/
Health Coaching Breakthrough Session with Lindsey: http://highdeserthealthcoaching.com/healthcoaching/
Functional Health and Nutrition Review with Lindsey: http://highdeserthealthcoaching.com/functional-health-and-nutrition-review/
Lindsey's Gut Healing Facebook Group: https://www.facebook.com/groups/gut.healing.for.you/
Top 10 Gut Health Podcasts – I'm #4!: https://blog.feedspot.com/gut_health_podcasts/
Lindsey's Healthy and Sustainable Weight Loss Tucson Facebook Group: https://www.facebook.com/groups/614864552264400/
Tucson Reversing Autoimmune Disease Together Meetup: https://www.meetup.com/Tucson-paleo-Meetup-Group/ and Facebook Group: https://www.facebook.com/groups/120659452694994/
Links to Lindsey's affiliate shops, lab tests and recommended products: http://highdeserthealthcoaching.com/supplements-and-lab-tests/
Lindsey Parsons' web site: High Desert Health: http://highdeserthealthcoaching.com and email: lindsey@highdeserthealthcoaching.com
High Desert Health on Facebook: https://www.facebook.com/HighDesertHealth/
High Desert Health on Instagram: https://www.instagram.com/high.desert.health/ or @high.desert.health
High Desert Health on Twitter: https://twitter.com/HDesertHealth or @HDesertHealth
High Desert Health on Pinterest: https://www.pinterest.com/highdeserthealth/
The Perfect Stool on Patreon: https://www.patreon.com/theperfectstool
Credits:
Thank you to SoundDot for the music on the podcast: Royalty Free Music: www.soundotcom.com