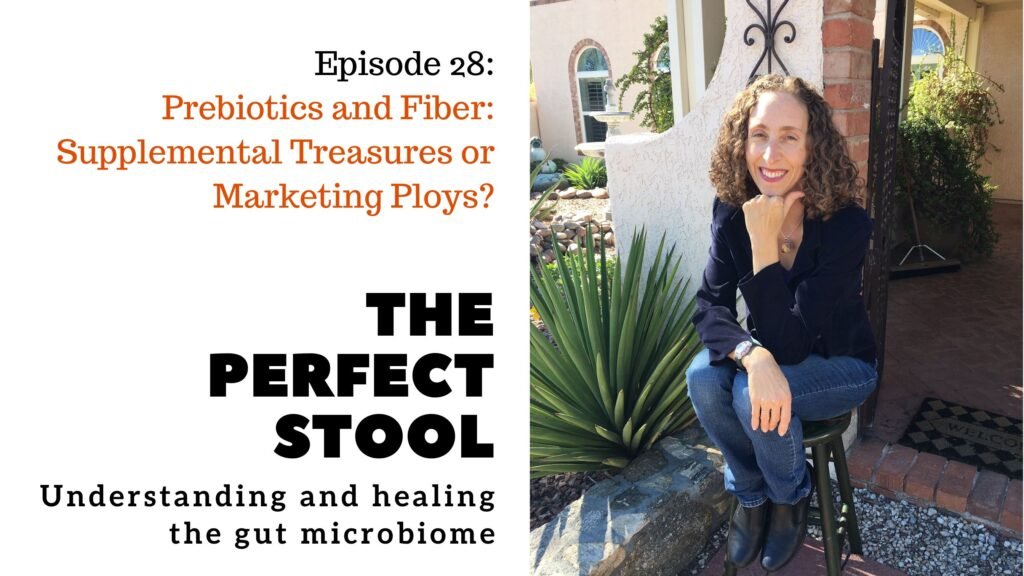 Prebiotics and Fiber: Supplemental Treasures or Marketing Ploys?
Set up a free 30-minute Gut Healing Breakthrough Session with Lindsey to discuss your gut health issues and hear about my 5-appointment gut health coaching program. Set up an individual, 1-hour consultation here.
Are you unsure about whether to take prebiotic or fiber supplements? Have you heard conflicting messages in the media or from your doctor about prebiotics and fiber? Are you confused about the impact of these supplements on your gut microbiome? Learn more about supplemental prebiotics and fiber, what they actually are, what they do, and their effect on various gut conditions with Certified Health Coach Lindsey Parsons, EdD.
Lindsey helps clients solve gut issues, reverse autoimmune disease and type 2 diabetes naturally and lose weight without cutting calories or cutting out major food groups. She's a Certified Health Coach at High Desert Health in Tucson, Arizona. She coaches clients locally and nationwide. You can also follow Lindsey on Facebook, Twitter, Instagram or Pinterest or reach her via email at lindsey@highdeserthealthcoaching.com to set up a free 1-hour Healthy and Sustainable Weight Loss/Health Restoration Breakthrough Session.
GOS prebiotic aiding in digestion of people who are lactose intolerant
Synbiotics study with recommendations on dosages of certain prebiotics and probiotics in order to see benefits
2018 University of Toledo study linking refined dietary fiber, gut bacteria, and liver cancer in mice
2014 Study published in the Journal of Renal Nutrition which found supplemental inulin was beneficial for patients with chronic kidney disease
Functional Health and Nutrition Review with Lindsey
Health Coaching Breakthrough Session with Lindsey
Gut Health Coaching Program with Lindsey
Lindsey's Gut Healing Facebook Group
Lindsey's Healthy and Sustainable Weight Loss Tucson Facebook Group
Tucson Reversing Autoimmune Disease Together Meetup and Facebook Group
Links to Lindsey's affiliate shops, lab tests and recommended products
Lindsey Parsons' Fullscript Dispensary
Lindsey Parsons' web site: High Desert Health and email
High Desert Health on Facebook
High Desert Health on Instagram or @high.desert.health
High Desert Health on Twitter or @HDesertHealth
High Desert Health on Pinterest
Veggie Recipes
Sweet and Spicy Green Beans
Ingredients
Whole green beans ends trimmed – 1lb (Use French beans or haricot verts if available)
1/3 cup whole almonds
4 cloves of garlic
4-5 whole dry red chilies (reduce the number if you don't like it hot)
1 tbsp olive oil
1/4 cup thinly sliced shallots
1 tbsp honey
1 tbsp balsamic vinaigrette
1 tbsp tamari /light soy sauce
salt to taste
Method
In a large pot, heat enough water to cover the beans. When the water starts to boil, add salt and the beans and cook for 2 minutes. Keep a large bowl filled with water and ice cubes ready. Remove the beans and plunge in the ice water immediately to stop the cooking. Once the beans are cool, drain on paper towels and keep aside. (This can be done a day ahead.)
Place the almonds, garlic and red chilies in a food processor and process to form a coarse paste.
In a large pan, heat the oil and saute the shallots till soft. Add the almond paste and salt and saute for a minute or two. Add the honey, soy sauce and balsamic vinegar and mix well. Cook for 1 minute on high heat stirring frequently. Now add the blanched beans and toss to coat the beans well with the paste. Saute till the beans are heated through. Remove from the heat and serve hot.
My Favorite Everyday Salad:
– red leaf lettuce
– 1 shaved radish
– chopped cucumbers
– chopped red bell peppers
– blueberries
– red cabbage
– pumpkin seeds
And the tahini dressing from this awesome Greek Lentil Salad.
Credits:
Thank you to SoundDot for the music on the podcast: Royalty Free Music. Thank you to my intern, Grace Sanford, for her help with the script of this podcast!