Gut Microbiome Webinar Replay
If you missed my talk on "The Gut Microbiome: What Can Go Wrong and How to Fix It", you can watch the replay here.
Description: Bloating, gas, acid reflux, pain, constipation, soft stool and diarrhea. Parasites, IBS, IBD, colitis, Crohn's Disease, leaky gut, SIBO, candida, dysbiosis and gastritis. There's a lot that can go wrong with your gut and most of it leads back to a disrupted gut microbiome, or a lack of balance between beneficial and pathogenic bacteria and fungi in your gut.
How and Why to Kick the Sugar Habit Webinar Replay
Description: Learn about the main challenges to kicking the sugar habit, insulin resistance and metabolic syndrome and how they relate to weight gain, Dementia and Alzheimer's, how sugar impacts your energy, safe alternative sweeteners and how to even out blood sugar and beat sugar cravings for good in this webinar replay.
Tucson Reversing Autoimmune Disease Together Meetup and Facebook Group
If you're struggling with an autoimmune disease, or have it under control but would like more support and fellowship with others suffering from autoimmunity, please join our meetup!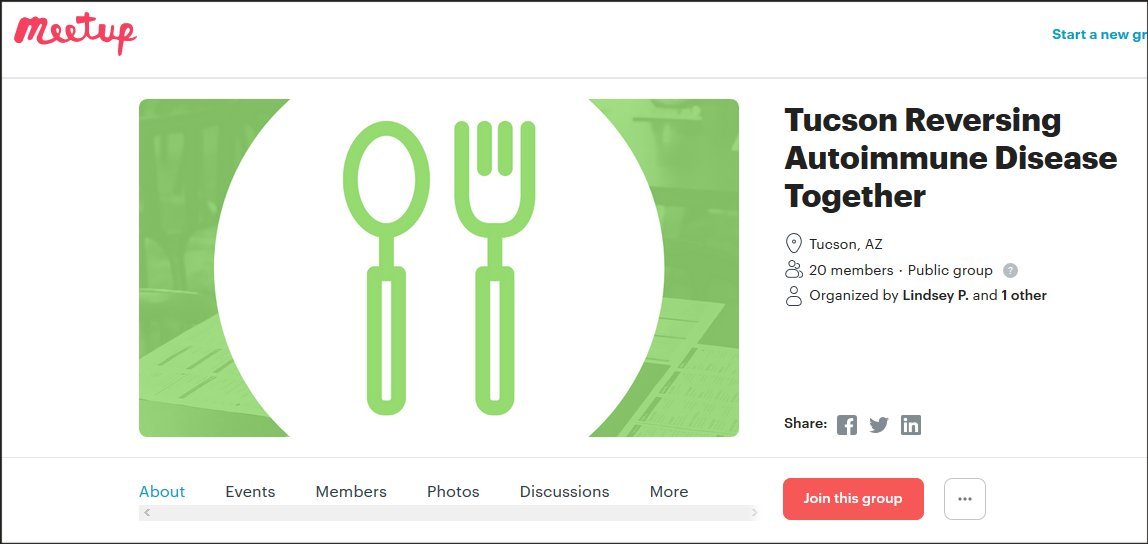 I am hosting it with AIP/Paleo chef and recipe developer Scout Noble of The Hungry Human. We have created the group with the intention of supporting people with autoimmune disorders through sharing informational talks and webinars, exchanging recipes, identifying books and other resources, building community and most importantly, hope to help you reverse your autoimmune disease naturally. Join and RSVP for events here. We have also started a Facebook group for the same purposes that you can join here.
Are you struggling with
Autoimmune conditions
IBS, constipation, diarrhea, gas, bloating or other gut/digestive issues
Fatigue
Feeling like you have to rely on coffee, naps or sugar to get through the day
Losing weight and keeping it off
Sugar cravings
Stress or emotional eating
Getting into a regular fitness routine
Wanting to reduce or get off medications for things like high blood pressure, high cholesterol or diabetes
Thyroid issues
Pre-diabetes or type 2 diabetes
Cardiovascular disease
I'm here to help. Are you ready for more? Join my mailing list to hear about upcoming talks and webinars or learn more about working with me.